Back in 1990 or so a friend by the name of Rod Browning built a rally car that everyone was slightly confused about.. the car was a Holden Camira JE.. now this is as close as you can get to a Vauxhall Cavalier without the badges and being part of the "J" Series world wide platform this made it easy to get information and parts.
Rod knowing this built the Camira with all the data he could get from Harry Hockly and others on the Astra GTE rally car and a few bits like Quiafe F16 Gear Set etc. I then bought the car and ran very successfully for ages.
In 1995 GM Europe setup Daewoo and gave them the Mk2 Astra to start off with and in Australia sold them as a 15i. I and a few other contacted Daewoo and told them I had all the running gear and would like a body and minor support to run in the then Australian F2 rally championships.. but they refused and all was lost. Deawoo did actually run a Daewoo Cielo (the remake of the 1.5i) in the African Rally winning in '96 and '97
2005 I picked up a 15i for a few thousand and still having the Camira rally car I bolted them together to make my very own GTE replica.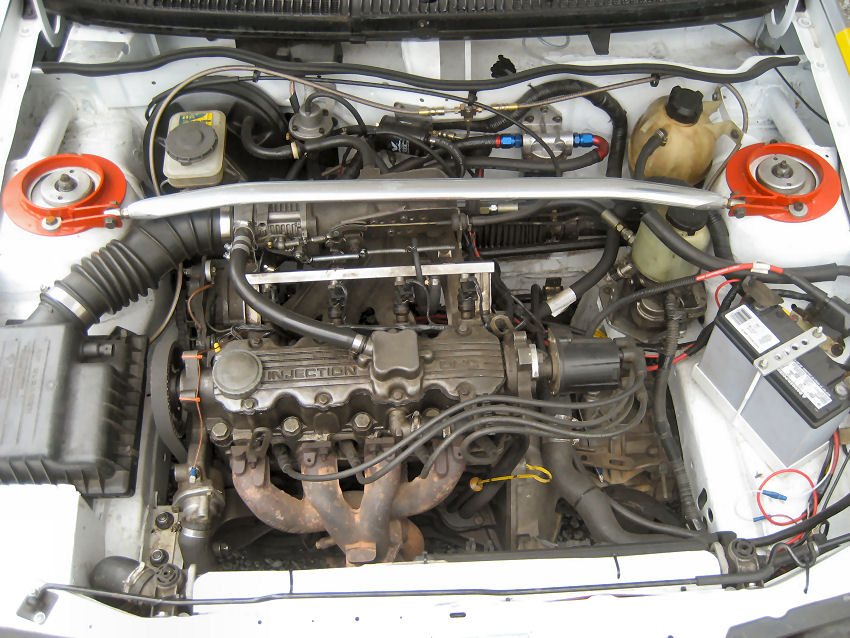 8v 2.0lt SOHC
2005 Specs:

  8v 2.0lt
  10.5:1 compression
  Mild Cam + vernier wheel
  Std Mainifilds (inlet and exhaust port matched)
  Balanced botom end
  light flywheel (0.7kg off original weight)
  Link Engine Management (fully programable)
  118hp @ Wheels
Gearbox:

  F16 Quaif Close Ratio Straightcut
  4.8 final drive
Suspension:

  Bilstein Shocks front and rear with King Springs 200pound front and 400pound rear (aprox 200pound at wheel)
  Front adjustable with solid tops
Brakes:

  Peugeot 405 288mm front discs with VL Turbo Holden Commodore Caliper single piston (pug discs redrilled)
  Holden Astra 265mm rear discs single piston with hand brake
  Honda Prelude 1" master cylinder and booster
  Wilwood bias valve
  Hydraulic Hand Bake