1986 PARIS - ALGIERS - DAKAR
Opel built 2 cars for the 1986 Dakar Rally. Both cars where to be 4WD but instead of the Ford Zakspeed Turbo engine, they instead opted to use the very successful Manta 400 2.4L 16V Normally Aspirated engine. Because of strikes within Opel they had to use a warehouse to build the cars and this not being the ideal environment may have contributed to the suspension troubles the 2 cars had on the Dakar.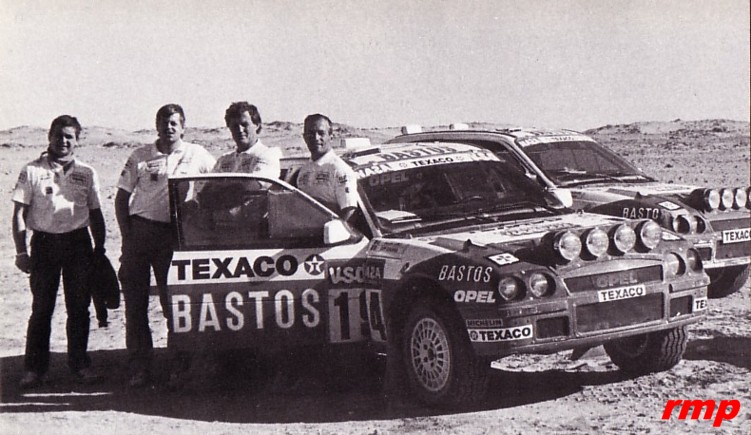 Paris to Dakar 1986
8th PARIS - ALGIERS - DAKAR
Start: 1 January 1986 from Versailles (Place d'Armes)
Finish: 22 January 1986 in Dakar (Rose Lake)
Rest: 13 January 1986 in Niamey
Length of rally: 15,000 km
Number of kilometers of specials: 7,731 km
Countries crossed: France, Algeria, Niger, Mali, Upper Volta, Senegal
Stage Win
17th stage: Saint-Louis – Sali Portudal (620 km)
Belgians Colsoul for cars and Spira and Rahier on motorcycles, are best in the day's scratches in a symbolic gesture.
After De Rooy, the race sees the surprising withdrawal of Groine, who could not get his truck out of a rut.
Overall scratch standings
OVERALL CAR-TRUCK STANDINGS


37th WEBER/WANGER OPEL
40th COLSOUL/LOPES OPEL
Car 194 Rego GG CY 252
Car 195
Car 152 Rego GG CY 252?